Light Boy Game (Demo)
Propuesta para la GB Compo 21
Historia
El mundo fue invadido por la oscuridad que despojó a los seres humanos de sus cuerpos. En una vida anterior Wigyu fue un niño que cayó por la grieta que se abrió al quebrarse la tierra tras el cataclismo. Entre almas errantes en las profundidades de lo que queda del mundo Wigyu tendrá que encontrar los últimos vestigios de luz.
Story

The world was invaded by the darkness that robbed humans of their bodies. In a past life Wigyu was a child who fell through the rift that opened up when the earth broke after the cataclysm. Among wandering souls in the depths of what is left of the world Wigyu will have to find the last remnants of light.

Cómo se juega
Usa la cruceta para moverte y el botón B para saltar.
Wigyu puede tener dos estados: hueco o sólido. Cada uno da unas ventajas o inconvenientes. Tendrás que ir pasando de uno a otro para superar las fases.
Toca un candil o pasa a través de un haz de luz para pasar de forma hueca a sólida.
Si te toca un enemigo estando en forma sólida pasarás a forma hueca. Si te toca un enemigo cuando estás con forma hueca, o caes al agua, Wigyu volverá al inicio de la fase y tendrás que comenzar todo de nuevo.
Para superar las fases tendrás que alcanzar la puerta luminosa estando en forma sólida.
How to play
Use the pad to move and the "B" button to jump.

Wigyu can have two states: hollow or solid. Each one gives advantages or disadvantages. You will have to switch between them to pass the levels.

Touch a candle or pass through a beam of light to take solid form.

If an enemy touches you while you are in solid form, you will go to hollow form. If you are touched by an enemy when you are in hollow form, or fall into the water, the level will restart.

To pass the levels you will have to reach the luminous door while in solid form.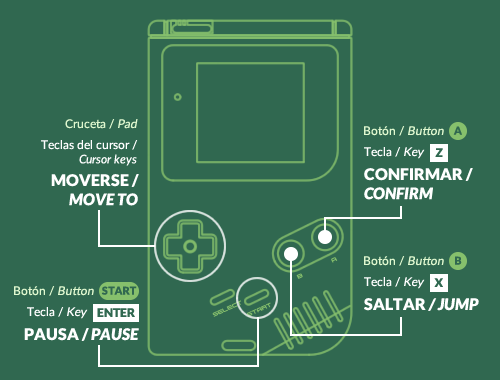 Comments
Log in with itch.io to leave a comment.
Está complicado con el teclado, lo probaré en la consola.
Muy simpáticos los gráficos y la idea.
El juego esta divertida y mucho difícil. Los graphicos son muy bueno


The game is fun and very difficult. Graphics are very good
Me gustaria que Wigyu tubiera una forma para atacar en su forma Solida.
En un principio estaba contemplado. Pero con nuestro conocimiento de GB Studio no fuimos capaces de implementarlo. A ver si en futuro podemos añadirlo.

Love this game! It's a simple puzzle platformer that has a ton of potential! The graphics are very well made, and the gameplay itself it pretty sturdy!
But the music can get a bit repetitive after a while.. And I wish you would swap the "A / B" buttons..
Thank you very much for commenting on our game! All feedback is welcome. We appreciate the suggestion to swipe the buttons, we will work on it for the future. As for the music, in defense we want to say that it is an original music made with a lot of love with the intention of being able to think during the game. However, your opinion is welcome and we will improve it in the future. Thank you very much!
Hi!
We will upload the ROM this week for the GB Compo 2021.

First we are going to participate in the GB Compo. Later, when the game is fully developed, we will decide what to do with the resources.
Eh, can't expect much out of game devs when it comes to learning something new, most you'll be able to get is learning from tutorials, take the unity community for example. Very rarely have I gotten an answer to a problem from someone who knows how to fix it and when I do they're very disgruntled and kinda upset I want to learn. I'd say be patient and wait for them to soften up a bit, they'll come around eventually